Your online wine store may have the attention of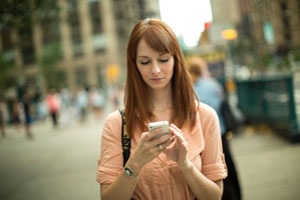 customers, giving them the choices on a particular vintage of merlot or chardonnay with decent shipping options. However, that only applies to people who use your regular Web store. What about the mobile version? Is it up to the same level of quality? Having great mobile ecommerce is incredibly important, especially given that tablets and smartphones combined are set to surpass regular PC ownership by 2015. At the same time, due to a smaller screen size and resolution and touch-based interface, getting your vintages to look good on mobile devices is a different blend from standard website design. Therefore, you should put some distinct effort into making your mobile site stand out and make wine impulse buys a common part in your sales. Here are some mobile site features that would work well with your store:
Direct and easy contact
As with any site, it is important to have contact information available somewhere on the site, in case something goes wrong with an order or if a customer has second thoughts about his or her purchase. Having that info out front is very useful, especially when it comes to wine of any kind. With mobile, you can take things a step further, according to ActiveMobi. Because they are likely looking at the site from a smartphone, consumers should be able to call the winery directly about their orders using a click-to-call feature on the contact page. Merchants can take it a step further by adding a click-to-SMS feature, which is great for younger buyers who prefer texting over talking.

Geolocation to determine shipping
Shipping matters greatly when selling wine. After all, unlike other products, you can't offer free shipping to customers. The fragility of the wine bottles makes shipping a bottle a delicate and complex matter. Therefore it is important to know where your buyers are so that they can getting an accurate estimate on how much it will cost to get that riesling to their home. While entering their zip code on the product page to get an exact estimate can be useful when they're away from home, a better idea is to have them tap a button that determines shipping cost by using geolocation on the phone, as suggested by Smart Insights. This minor addition to your mobile site can save a lot of hassles on the part of consumers who don't want to spend time remembering and inputting their ZIP.

Buttons as big as a cork
OK, maybe your buttons don't need to be that big. But it is critical to remember that touch-based interfaces are the standard with tablets and smartphones. The emphasis on tapping means that unlike using a mouse, touchscreens need everything to be large to be both readable and interactive with the user. Even on a product page, you should take great care that your buttons are actually big enough to be pressed. When buttons are a struggle to tap, it ruins the customer's experience and may put them off from buying a case of sauvignon vert. According to ActiveMobi, a good range for button size is 45-57 pixels.

Images and video over text
While your product descriptions and recommendations may be a fine piece of work, they are going to be hard to read on a smartphone, not to mention tedious. Small screens mean you need to deliver detail in a more compressed space, something text cannot provide even in the most concise terms.It's critical that your product pages are optimized for media use, Smart Insights recommends. That includes easy-to-navigate image galleries, as well as video in lieu of text descriptions if possible. With those features, your customers will be able more easily decide whether or not they want your products.