Last week, Amazon announced plans to wind down their wine platform. It is easy to see that this decision is somehow related to Amazon's purchase of WholeFoods, possibly due to potential regulatory complications. More likely, they are setting the stage to expand Amazon Fresh and Prime Now efforts by leveraging the 400 Whole Foods stores located in Prime members' backyards to speed up delivery and improve service.
Either way, it's bad news for wineries who have invested precious time and resources into optimizing for Amazon's marketplace and have come to rely on the ecommerce giant for building brand awareness, acquiring new customers and boosting DTC sales.
The good news is that there are other online marketplaces besides Amazon who are actively investing in wine. The most analogous option is eBay, who is committed to helping wineries succeed on their platform, and with whom we built an integration earlier this year. If you're a heavy user of Amazon Wine, or you just want to test the marketplace waters, we can have you up and running with eBay in just a few days.
> Sign up here to learn more and get started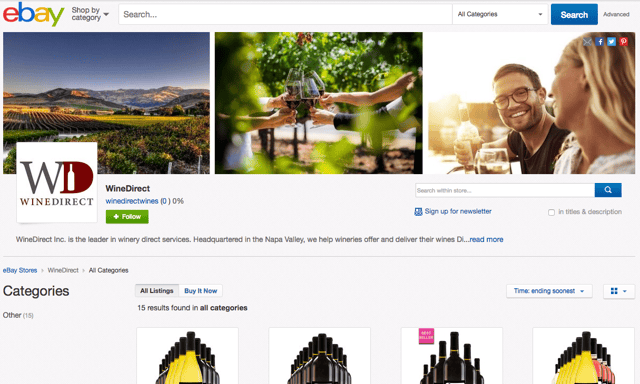 For a limited time, eBay is offering special perks to new wineries who sell wine on the platform including:
Promotional email to all existing eBay wine buyers welcoming new wineries onboarded through WineDirect and Vin65
Special on-site promotions to draw attention to your products
Inclusion in all eBay holiday coupon programs, free of charge
Social media campaign support
After working with eBay for the past six months, here's what we've learned:
Sampler packs built around specific themes (such as Girls Night or Holiday Dinner) and offered at a discount do very well.
Collectibles and well known brands offered for a limited time are in high demand.
Unlike other marketplaces, eBay will never compete with their suppliers
Ready to get started?