As more states allow online wine sales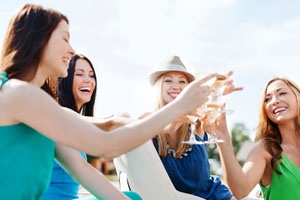 and the direct shipping from wineries to consumers many wine aficionados are just now becoming wine club savvy. So how does a discerning fan of the grape decide which club is best for them?
Not all wine clubs are the same
Online industry publication Best Wine Clubs discussed the advantages and pitfalls of wine clubs and offered some suggestions on what to look for in finding a reputable program. When selecting a wine club, a consumer should always go with one that's in the industry. If the sponsor or operator of a club is not known for being in the business, then the consumer may want to look elsewhere, the article said. A number of companies from outside the sector have jumped into online wine sales with both feet. There have been multiple reports of clubs with little to no inventory and poor quality product. As with everything joining a wine club is caveat emptor - buyer beware.
Good wine clubs are a great deal
One of the many good things about joining a club, explained Best Wine, is that many operators are people who love wine and the aura surrounding it. While local wine outlets generally charge full price for wine, the clubs offer bargains and many also have money-back guarantees if the consumer doesn't like the product. Customers also have more inventory to choose from. Having a warehouse full of product means a larger and better wine selection. Wine clubs also can pair consumers with a knowledgeable wine expert, something package stores and local liquor outlets don't offer.
Like a present in the mail
Another great aspect of online wine clubs is the shipping aspect of it. When a consumer's online purchase of their favorite vintage arrives at the home it's just like receiving a birthday or Christmas present through the mail - with all the excitement that entails. Wine shipping is generally a well thought out and planned operation with all the safeguards needed to ensure the product arrives undamaged, on-time and unspoiled. Many clubs offer discounts for frequent or bulk buyers, and Best Wine advised that buyers new to online wine buying and shipping to go with a club that has low introductory offers.
That way the club showcases its operation and selection and the consumer saves money in the long run.