You may have started a wine club at your winery,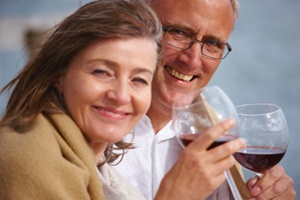 but it's likely very basic. The idea is simple: Send a shipment of wine to your customers every so often at discount. You might have specific bottles you send out, such as a vineyard exclusive. That may not be enough to keep your members signed on, even with discounts and additional services attached to these shipments. You want to have lasting appeal to your wine lovers, and it has to extend beyond the basic shipment. Choice and features can make a major difference in this situation, as can playing to your strengths as a winery. Sometimes, a direct line of communication can help as well.
Options matter
The most basic way of getting your customers to stick around is giving them a choice in what kinds of wine they want delivered to their doorstep. Castello di Amorosa, which runs multiple vineyards in Napa Valley, has an "Amici del Barone" wine club with a large variety of options. There's a choice for reds only, another with sweet wines, others that only sends wines exclusively produced at the winery's Castle estate. Each option has a baseline of benefits, so it's merely a matter of the wine aficionado's tastes. There are also options for one-time only shipments for larger customers with additional perks.
However, you don't have to go that far in terms of choices. Sometimes, just a few is enough. Consider Gamble Family Vineyards, based in Oakville, California. They offer a basic choice between one or two cases of their wines, sent twice per year. The Crush Club of Tinhorn Creek Vineyards in British Columbia, meanwhile, simply offers a selection between reds only, whites only or a mix between the two. You can keep things simple or make them complex. The key is to present options that give the customers something to try.
Creating a community
The centerpiece of the winery is the tasting room. This is especially the case for customers, because they not only get to visit the place where the wine is made, but meet people like you who are behind its production. There is a certain social consideration when it comes to wine tasting, something that should extend to the wine club. There are couple ways of doing this. If the club is small enough, providing a direct line to you or other people directly involved in the winemaking process will give customers from near and far away a sense of community. Sending out exclusive news can also help. For example, if you were based in Napa Valley in the recent earthquake, your club members may have wanted to know if everything's okay. While a blog post once you know the whole situation may help all your customers, a quick personal email to everyone in the club would show that you're just as invested in them as they are in you.
More importantly, you want to have options that welcome your membership in different ways. An example of this is the tastings. You may have regular customers or tourists who come to taste your wine. How can you make that experience special to wine club members? One way is making the experience complimentary. You can also let them try out exclusive bottles that you wouldn't necessarily give to tourists. To further highlight exclusivity, you can invite them to special tastings, particularly of the latest vintage or a winery exclusive. You may also want to open up your doors in different ways. Consider Poplar Grove in British Columbia: Their wine club members have exclusive access to an annual barbeque that occurs at the vineyard, pairing together good wine with food. Whatever the means, diversity in your wine club can foster a membership that becomes a paying community.