WineDirect has a new fulfillment warehouse in Santa Barbara County, and our local team is looking forward to connecting with our new neighbors. Allow us to introduce David, Aaron and Taylor, who are already hard at work helping Santa Barbara wineries improve their DTC fulfillment and ecommerce operations.
Sit back, pour yourself a glass and let's get to know these great folks.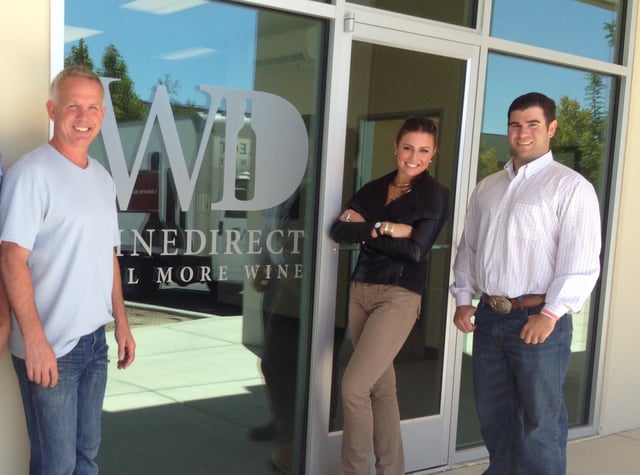 David Dennigmann - Director of Operations
As Director of Operations, David oversees our winery fulfillment services in the Central Coast, specifically in Paso Robles and Santa Maria. He's been in the wine industry for over 25 years, spending his time working with retailers, wholesalers and, since 2007, in fulfillment. This experience gives him different perspectives when it comes to fulfillment and customer expectations, and he uses that knowledge when working with WineDirect partners now.
"I probably have the most dynamic job, which keeps me motivated," he added. "My day-to-day focus is serving our customer base out here. I often go out to meet with local wineries to understand their needs. Our relationships are tried, true and tested - they're what keeps the community together and what keeps these wineries moving forward."
One of the things that most excites David about the new facility is its design.
"Santa Maria was custom-built with our clients in mind," he noted. "The building's foot-thick concrete walls create a natural cave-like environment to keep wine cool and stable. Our streamlined industrial design, loading docks and fiber optic cable system allow us to provide fast, consistent service no matter what kind of volume we're seeing. This is especially critical now, in OND, when order volumes are high."
When he's not in the warehouse, David still enjoys the California wine experience. He and his wife spend their time at many of the local artisanal restaurants and wineries. In particular, David enjoys eating at Arigato Sushi and attending the annual Celebration of Harvest festival. He's also, of course, a huge, old-school wine enthusiast.
"I was into Pinot before the movie 'Sideways,'" he added.
Aaron Dean - Quality Control Manager
Aaron's current position is Quality Control Manager, and he'll soon take over operations in Santa Maria. Born and raised in Santa Barbara, Aaron is a Dodgers fan who attended school at California Polytechnic State University.
"I've worked on three harvests in the past, which is how I got my start in the industry," he said "Living on the Central Coast, the job market here kind of lends itself toward wine."
A typical day for Aaron includes checking orders, reading emails, drafting reports, predicting volume and organizing tasting room deliveries. His ultimate responsibility is making sure all orders go out in a timely manner and that the customer is satisfied. Still, Aaron isn't all work and no play. He enjoys spending time outdoors, making the most of the weather.
"Santa Barbara has the best climate anywhere around," he said. "It almost doesn't seem real. I'm also spending quite a bit of time preparing for my wedding in October with my fiance, Skylr!"
Aaron is excited about where the industry in the Central Coast is headed. He loves the community for its mellow, tight-knit nature and can't wait to see what emerges in the future.
"Alcohol as a whole - local wines, craft beer and spirits - is on the upswing," he noted. "There are a lot of new brands and a lot of existing brands expanding. It's very fun to watch the industry grow."
Taylor Gilkey - Sales
For the past three years, Taylor worked as an account manager in our Paso Robles facility. Now, she brings her intimate knowledge of the WineDirect product to the new Santa Maria facility. Like Aaron, Taylor also attended Cal Poly, from 2006 to 2008. Agriculture and production are in her background: Her family grows wine grapes, pistachios and cotton.
"We're larger cotton growers, which is a rarity in California these day. There are so many politics involved with farming that it's become harder than ever to keep it around," she noted. "Our long staple cotton is used in high end brands such as Brooks Brothers and Lands End. I'm super proud of my family's hard work and perseverance."
In fact, it's this background that makes her such a perfect fit for the Santa Barbara team. When asked about the differences between the wine community in the Central Coast compared to the rest of the U.S., Taylor was quick to answer.
"A lot of the wineries here are still family owned and operated," she began. "These people work the land, and the grapes they grow are their babies. It's something I love and appreciate, coming from an agricultural family."
Taylor is passionate about the wine industry, and she enjoys bringing new wineries on board, introducing them to the technology that helps them increase sales and process orders more efficiently.
"We're pushing the wine industry forward in terms of technology," she said. "WineDirect and Vin65 are pushing the limit. We want to enable wineries to sell more, and we've done that. Not only do we make sure wineries are selling more wine, we come full circle in topnotch fulfillment. We take pride in making sure wine is being delivered to the recipient fast and safely. As our clients' businesses grow, that's what allows us to expand our services as well."
Interested in learning more about our new Santa Maria fulfillment center? Contact us to schedule a tour and speak to our local team about how we can help you improve your DTC operations.