Laws set the rules of society, and are often crafted to benefit some constituents over others. As a result, when laws change there are almost invariably winners and losers. The recent changes to Louisiana's direct-to-consumer shipping law are generally hailed as an improvement granting the state's wine drinking consumers greater access to a wide variety of wines previously unavailable to them through traditional distribution systems. While the net effect for some wineries is better for some than for others, considering that the alternative proposal was to effectively eliminate most direct shipping, this change is still a victory for DTC.
The key component of the revisions to Louisiana R.S. §359 is the newly-granted authority for wineries with existing Louisiana distributor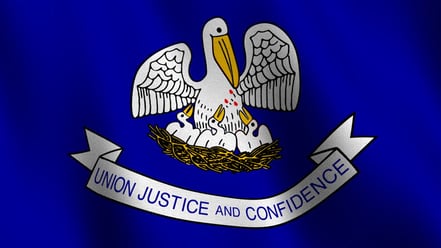 relationships to ship DTC those products not available through the 3-tier system. Previously, any relationship with a Louisiana distributor eliminated a winery's ability to ship products direct to Louisiana consumers, regardless of whether they were available through the 3-tier system or not. As an alternative, certain constituencies were lobbying heavily for a retreat on the direct shipping law, restricting direct shipments to onsite-only sales occurring at the winery tasting room, effectively eliminating most direct shipments and all internet sales. This certainly is a welcome change for any winery with existing 3-tier distribution in the state, and for consumers seeking those wineries' lesser distributed wines.
What do I win?
My question is, "Do the changes in the law really help wineries?"
My answer is, "Compared to the alternative, yes. But small wineries fared worse than large ones."
Increased Costs, No Added Benefits
While the alternative legislation would have been disastrous to all wineries shipping direct to Louisiana, not all wineries fared as well as others when the final bill was passed. Along with the lessening of the distributor restriction come certain other changes in the law that are less appealing to smaller wineries, whether already shipping DTC to Louisiana under the old law or not. Without breaking down each detail, under the revised law, the fees for shipping DTC to Louisiana consumers are increased from $150 to $400 annually, because the new law states that in addition to the current $150 annual registration with the Department of Revenue, the winery must also apply for a permit with the Louisiana ATC at an annual fee of $250. Most small wineries would not consider this a positive development, as it hits them disproportionately harder than a large winery relative to the potential return-on-investment for the license fees.
Further, the revised law requires brand registration of each product shipped to consumers. The cost is admittedly modest at $5 a label, but it's still an increase since brand registration wasn't required previously for DTC shipments. Another administrative burden is the change from quarterly reporting to monthly reporting of shipments into the state. Many larger wineries have administrative infrastructure already built into their organizations and can accommodate this change more readily than a smaller winery operating with limited resources.
Meaningless Win for Small Wineries
Accommodating all affected parties touched by legislation is an admittedly difficult process, particularly when opposing forces strive to undermine or eliminate completely the gains desired. These other changes to the final bill passed are somewhat minor, but the most important change in the law relaxing the rules surrounding use of distributors generally provides no benefit to smaller wineries, since most small producers can't get distribution agreements in other states anyway. The elimination of the outright prohibition on shipping DTC any products when a distribution relationship exists is meaningless to a small winery. It seems a poor trade-off for what amounts to the annual fees more than doubling, although admittedly not when considering elimination of direct shipping altogether.
Large wine producers can certainly be considered a winner with the change to Louisiana law…and that's a good thing. Small wine producers however, only feel the downside of the change, with little to no commensurate benefit from the removal of the distributor prohibition. That's not a good thing. Small wineries most certainly lose under the terms of the final bill…a not uncommon occurrence when all is said and done in the constant market struggle between large and small in the wine industry. Sadly, compromises and lost ground is the common result when powerful forces seek to restrict or remove consumers' rights to purchase legal products across state lines in order to improve their own bottom line.
Author's Note: This post has been edited to reflect additional context surrounding the Louisiana legislative changes as of July 26, 2016.