When you're are selling wine direct-to-consumer, you're likely trying to promote directly online through organic search terms and email marketing, along with indirect methods such as the tasting room. But while some customers will be able to determine if you're a good choice by visiting your tasting room, others may not. How are you able to demonstrate who you are as a winery if customers aren't in your tasting room with staff to describe and promote your wine? You can do so by starting a blog.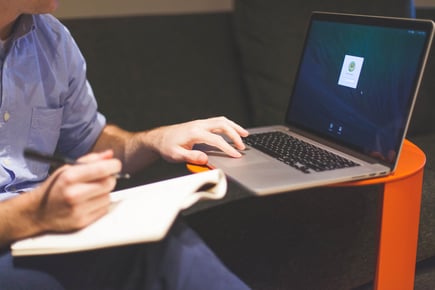 Getting people to the door
There's at least one good reason to start a blog. That's to drive traffic to your website, according to HubSpot. If you're a winery whose reach is limited beyond the local wine industry, your site is often the only way customers outside of your region know you exist. However, it's very hard to bring consumers to your site on organic search alone, even if you have the right search terms going for you. You could place ads on Google and Bing, but that's expensive.
Blogging boosts search engine optimization. One of the core elements behind the search algorithms of leading engines is indexing. When a new page appears on your website, it gets indexed by the search engine. The more often that you create new pages, the more frequently they are indexed. The greater the number of indexed pages results in the engines seeing your winery as relevant, raising your page rank significantly. This increases the chance that someone who is randomly searching will actually find your site and your offerings.
More importantly, this has a major advantage in social media. Engaging your audience in outlets like Twitter and Facebook can be time-consuming. You have to display a frequent presence just to get people to continue following you, let alone expanding to new members. But you can send your blog posts to these outlets when they publish solves this problem easily, while showing your customers that you're interested in what they have to say.
Being the sommelier, oenologist and viticulturist
Another major reason that you want to start blogging is that you want to establish authority. Sprout Content refers to authority as expertise. Visitors who come to your site don't expect you to sell them wine. They want to learn something about wine in general and yours in particular so that they can make an informed purchasing decision. What you want to do is provide them that information.
With blogging, you can provide unique insights on your industry. For example, you can talk about the upcoming vintage that is fermenting right now, as well as what sample batches you have tried in the tasting room recently. Discussing the latest grape harvest and how it affects you can demonstrate your expertise on production. Talking about food pairings and times of year when your wine should be enjoyed and have an understanding of how your customers like their wines. You can take things a step further by offering recipes for some of the food pairings that you recommend. That gives customers a reason to try your wines.
More importantly, by having such a wide amount of topics to discuss as a winery, you can use blogging as a way to take a break from daily business and have a conversation with your customer. You'll be able to boost your winery's reputation on search engines and with customers, and can have fun in the process.